Zaïra Vieytes - Biography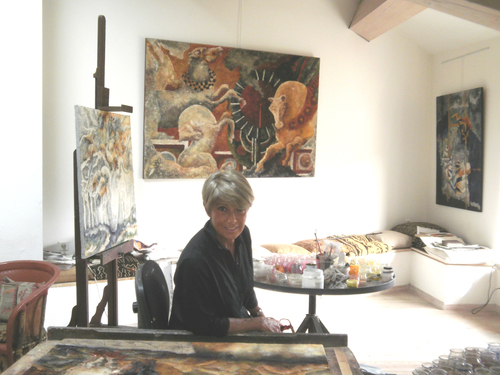 Born in Argentina, lives and works in Paris (France)
I studied drawing an painting with Horacio Butler and Raul Russo at Escuela Superior de Bellas Artes Ernesto de la Carcova, then scenography with Saulo Benavente at Instututo Superior de Arte des Teatro Colon.
My first solo exhibition in 1973 was in the legendary gallery Lirolay in Buenos Aires. In 1976, I won a scholarship bestowed by Polish government to young artists, and I went to work in first in Cracovie with film-maker Andrej Wajda and artist and producer Thadeus Cantor, and then in Warsaw with Joseph Szajna.
In 1978 I settled in Paris. I exhibited my works in throughout Europe and Latin America amongst with was the Critical Figuration Exhibition in the Grand Palais, Paris and the Biennal of Havana. I received 1st prize for painting from the Museum Eduardo Sivori, and from the National Museum of Fine Arts in Buenos Aires, the Great Aor Inter Award "The face in cotemporary painting" in Toulouse, and in 2004, 1st prize from critics and the public at the Latino-American Art Exhibitions in Sao Paulo.
My works have become part of numerous public and private collections.
At the same time as working at my artistic carrer, I give introductory lessons in contemporary art at the Faculty of Political Sciences of Paris as well as in other institutions.